See below for a comprehensive circuit map of the closed road course that the riders will tackle within the Cheshire town.
Alternatively you can download a PDF version of the map here.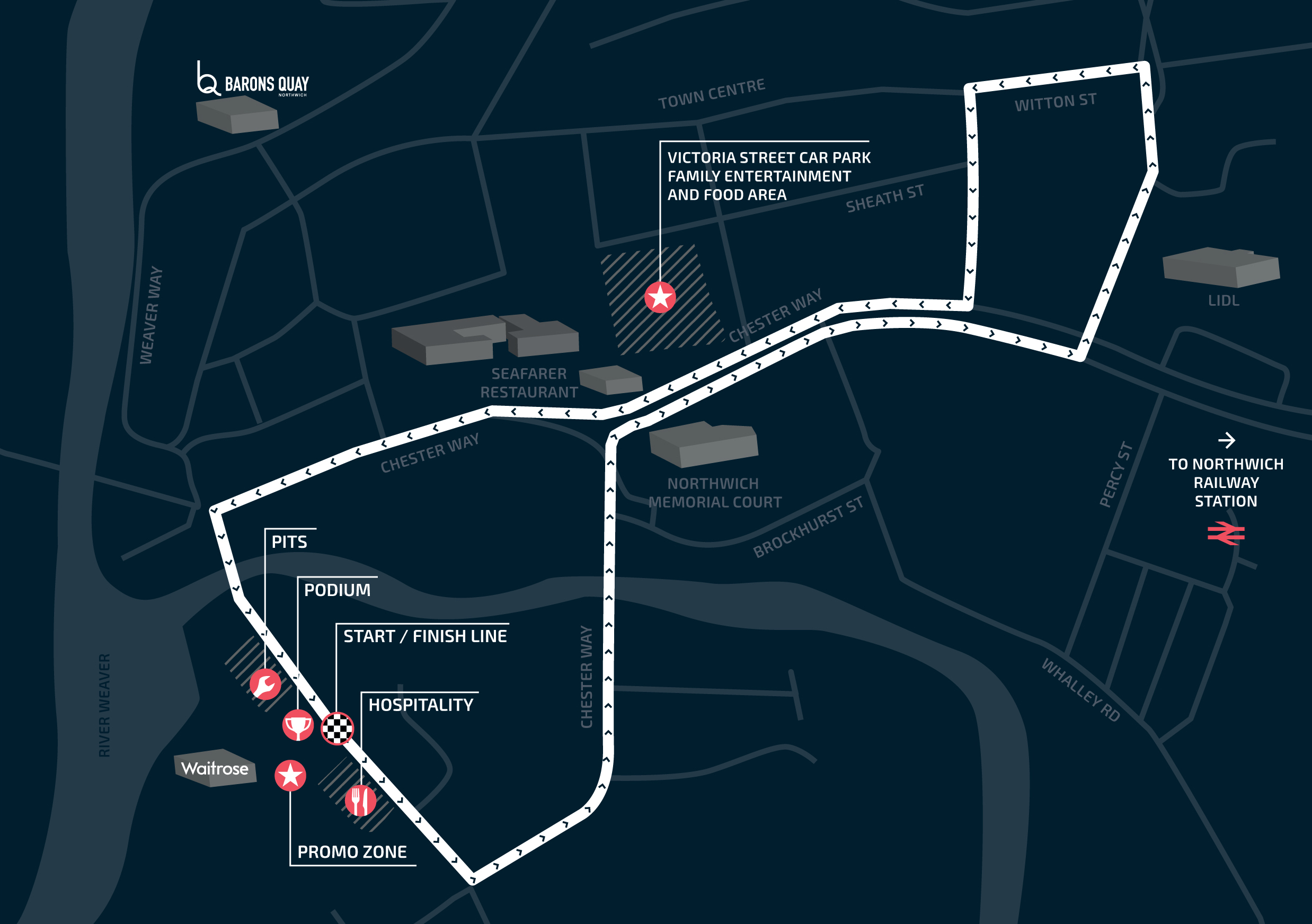 About Northwich

Northwich is a very exciting place to live and work with a range of developments and projects coming to fruition.
The town centre is busier than ever, green infrastructure projects such as Pocket Park have been undertaken to improve the look and feel of Northwich and the cultural and social offering has improved significantly over the past couple of years.

Northwich is also carving out a reputation for its great range of independent shops which sit alongside many major national retailers and professional service providers.

On top of this, the multi-million pound Barons Quay development continues to edge closer to completion. A five-screen ODEON cinema, Wildwood restaurant and ASDA have already opened there with many more businesses expected to come in due course.

The town is blessed with numerous open green spaces, waterways and popular heritage attractions that bring in visitors on a regular basis.

There's the award-winning Lion Salt Works museum which tells the tale of Northwich's salt industry, the Anderton Boat Lift which transports vessels from the River Weaver onto the Trent & Mersey canal and also Weaver Hall which explores the history and industry of West Cheshire.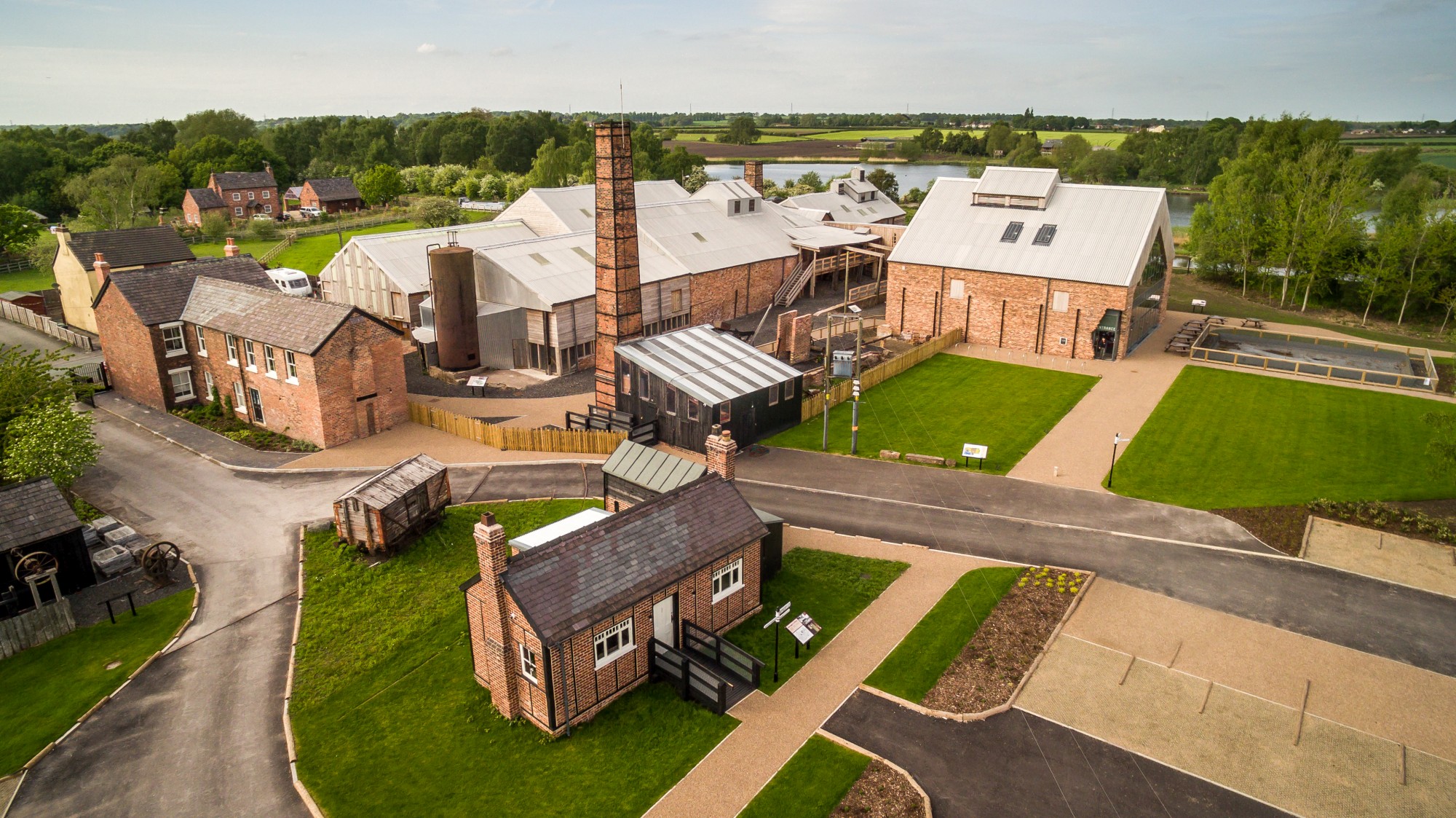 Northwich itself features a number of parks, including Verdin, Marbury, Carey and Vickersway for people to explore and get away from the hustle and bustle of the town, while riverside walks next to the Weaver and Dane are less than 10 minutes away from the centre of Northwich.

For further details and much more about the town, please head to the Visit Northwich website: https://www.visitnorthwich.co.uk/

Spectator Information

Family Activities

Brunner Court - Craft / Face Painting - 4pm-8pm

High Street - Scales 'n' Tails (Terrapins, Bearded Dragons, African Land Snails, Reptiles and more) outside of Barclays - 4pm-8pm

Throughtout town - Look out for Mrs Salt & Brio Bear who will be parading around the town, Minions and the Pirates of the Caribbean will be covering from The ODEON / Wildwood Restaurant to M&S - 4pm-8pm, T-Rex will be rampaging on Witton Street, between Clarks and VIVA Café - 4pm-8pm

Leicester Street - The two Donkeys (Ant & Dec) will be patrolling along Leicester Street, giving children rides - 4pm-8pm

Victoria Car Park - Northwich BID Traders Market - 2pm-9pm, Artists Market - 2pm-9pm, Signal Radio - 2pm-9pm, Ferris Wheel - 2pm-9pm, Funfair Rides - 2pm-9pm, Live Music - 2pm-9pm

Waitrose Car Park - Race Start and Finish Line, VIP Area, Promo Area and Podium

Community Race Circuit

14.00 - 14.30: Bikeability level 3 circuit ride supported by Vale Royal Sports Partnership, Guided group ride on a number of laps
15.00 - 15.30: Junior Run Community Loop (Girls Race and Boys Race)
15.30 - 16.15: Corporate Relays H1, H2, H3 and Final supported by Weaver Valley Cycling Club, 3 heats of 6 teams with 3 riders, First 2 teams from each heat through to the final
16.30: Community event finishes, Prize giving on the Podium

Road Closure Information

Thursday 11 May

Victoria Club Car Park will close at 17:00pm. This will enable facilities for the event to be built through the night. This remains closed all day Friday.

Friday 12 May

05:00am - Phase 1 closure. London Road outside Waitrose closes for the rest of the day. The Waitrose Car Park is also closed to vehicles. Waitrose supermarket remains open for full trade. Please consider this in terms of vehicle movements. The gyratory across the Weaver bridges remains open till 11:00am.

10:00am - To assist the event and wider parking, a temporary car park will be opened in Verdin Park. Cars must leave this site after the event at 9:30pm. Other Car Parks accessed from Leicester Street remain open as normal.

11:00am - Phase 2 closure. Watling Street and Chester Way from Memorial Court to London Road will close.

From this time, for the rest of the day it will not be possible to use the gyratory to travel
west-east-west. To head across Northwich, a diversion will be in place via the A556 bypass.
Cars heading north from Leftwich will be able to cross the river at Hayhurst Bridge and progress as normal to Greenbank or Winnington.

In addition Crum Hill and Sheaf Street will close. There will be some exit via Meadow Street for a period. After 3:30pm, vehicles will not be able to exit here till after 9:30pm.

Due to the closure of Watling Street, there will be no exit from Market Car Park. Please note that cars left here will not be able to exit till after 11:00pm due to safety of the event.

14:30pm - The community activity will start and crowds will start to arrive over the next couple of hours.

15:30pm - Phase 3 closure. Chester Way from Lidl to Brio will be closed. Lidl Car Park is open as normal. Meadow Street, Witton Street and Venables Road from Witton Street to Chester Way will also close. This prevents an exit from the Car Park on Venables Road. Cars in here will not be able to exit till after 9:30pm.

The Memorial Court Car Park is open but can only be accessed via Percy Street. Percy Street will have parking suspended and residents on this street should use an alternative location.

Roads will open as soon as possible once the roads are safe to do so. It is expected that phase 2 and 3 will open by 10:00pm and that phase 1 on London Road will open by 11:00pm.

Car Parking Provision

Free Parking will be available at the following locations:

• Barons Quay (900+ spaces)
• Northwich Memorial Court (219 spaces - access via Percy Street only on event day)
• Cumberland Street (120 spaces)
• The Depot (250 spaces)
• Verdin Park (inside - 700 spaces on event day)
• Verdin Park (existing Car Park on Castle Hill - 26 spaces)
• Northwich Glass Hardstanding (50 spaces)
• Watermans (52 spaces - open for parking, however cars will not be able to exit until after 9:30pm)
• Lidl, Aldi, Sainsbury's and Matalan will operate as normal on event day