See below for a comprehensive circuit map of the 1.2-kilometre closed road course that the riders will tackle within the Scottish town.
Alternatively you can download a PDF version of the map here.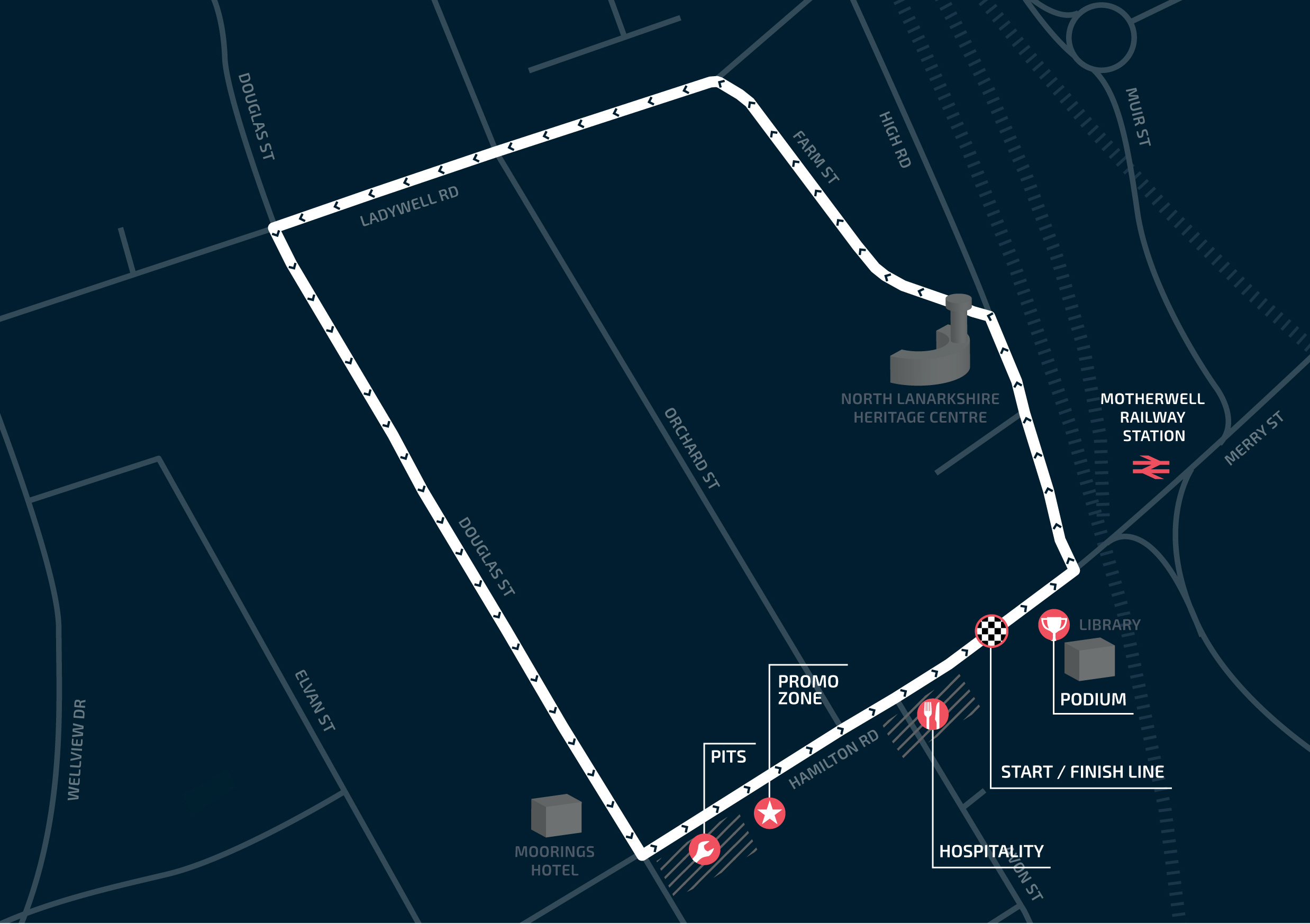 Download the Motherwell Spectator Leaflet here
About Motherwell

Lanarkshire offers a wealth of places to visit and things to do. As well as beautiful scenery offering a world of choice for walkers, cyclists and other outdoor enthusiasts, Lanarkshire is rich in its variety and quality of visitor attractions. Our town centres range from small market towns with many buildings of historic interest to modern centres where you can access a full range of shops and services.

Motherwell is one of the largest towns in Lanarkshire, situated on the east side of the Clyde Valley, 12 miles south east of Glasgow. Once known as a major centre of steel production, Motherwell is now a bustling 21st Century town with a mix of independent retailers, high street stores and places to eat and drink as well as thriving business zones including Strathclyde Business Park. It hosts the headquarters of North Lanarkshire Council and is a centre for entertainment and local culture with the Concert Hall, theatre and North Lanarkshire Heritage Centre. With its excellent bus and rail links, Motherwell's busy town centre offers something for everyone, and the town's Shopmobility service ensures its attractions are accessible to all.




North Lanarkshire Heritage Centre is located in the heart of the town centre, overlooking the Tour Series route. This four star attraction offers visitors a range of facilities and services for an educational or a fun day out, including gallery and exhibition spaces and a viewing tower.

Revisit North Lanarkshire's old high streets in this exhibition of stunning photographs from our archives. Explore the shops, cinemas, dance halls and cafes where earlier generations spent their working day, 'went the messages', enjoyed a 'good picture' or danced the night away. Highlights from North Lanarkshire's extensive photographic collections, museum artefacts and historical documents tell the story of the old high street and how we shopped, dined and spent our leisure time.

Motherwell is the home of Strathclyde Country Park which is just one part of the town's excellent range of leisure facilities. The park centred around Strathclyde Loch and recently the venue for the Glasgow 2014 Commonwealth Games Triathlon event offers great activities for everyone. From watersports, cycle hire, or a scenic stroll along the many country walks to the exciting rides on offer at M&D's, Scotland's Theme Park or relaxing lunch in one of the park's Hotels and restaurants.

For more information on Motherwell and North Lanarkshire, what to do and where to stay, please visit www.visitlanarkshire.com